Gary Blair has run a very large accordion school. He has competed in scores of accordion competitions, winning many of them. He is a past U.K. Accordion Champion and now devotes his time between a very busy gig schedule and teaching the accordion.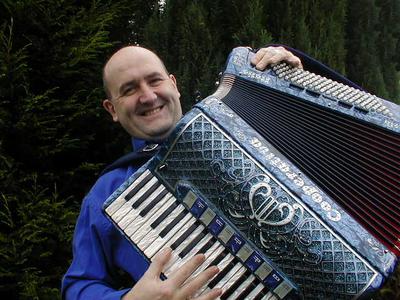 Gary Blair is a lover of all styles of music and this reflects in his performing a wide variety of styles. He has been Guest Artiste at many accordion clubs, festivals and ceilidh's.

In the past, he used to organise the South Scotland Accordion Championships having taken over from his late father and mother, who both taught the accordion. Gary has been actively involved in the last 26 U.K. Accordion Championships, be it competing, adjudicating, performing or organising. He is currently an Executive Committee member of the National Accordion Organisation of Great Britain and the Gary Blair Ceilidh Band have performed for the UK Championships Gala Evening on six occasions.
In between his rather hectic schedule of band gigs (ceilidh's, weddings etc.) he has performed recently in Dubai and at both international accordion festivals held at Blackpool (3 performances) and Caister England (4 performances).

The Gary Blair Ceilidh Band have a CD available and there are also two solo CDs recorded by Gary Blair.