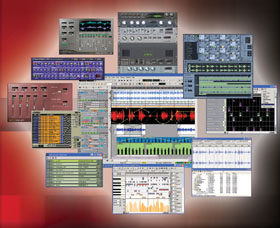 SONAR Highlights
Integrated multitrack recording, editing, mixing, and delivery of audio and MIDI.
24-bit/96 kHz audio hardware support.
Simultaneously record multiple tracks with support for multi-channel audio hardware.
Internal MIDI precision of 960 PPQN for rock-solid synchronization, and recording and editing accuracy.
Unlimited undo/redo with history.
Unlimited potential tracks and real-time effects inserts, 16 auxiliary sends, and up to 64 virtual main outputs.
Envelope automation of audio and MIDI, synths, effects, and mix parameters with sub-sample level accuracy.
Copy, paste, edit, and move automation as events.
Global control surface support with presets and learn mode.
Optional WDM Kernel Streaming for faster audio processing and mixing, live input monitoring of effects, and lowest-latency DXi soft synths. (Requires WDM-compatible audio hardware).Fully-automatable DirectX™ 8 audio effects.
Add more DirectX effects as needed to expand your audio processing power.
Supports and includes DXi soft synths.
Additional DXi synths available separately from leading developers.
Unlimited simultaneous DXi. synths (computer dependent).
Integrate ReWire-compatible synths.
Add VST instruments and effects with VST to DX converters, available separately.
Advanced audio loop construction and integration tools.
Professional meters with peak, RMS, peak and RMS, pre-fader, post-fader, and pre-fader post effects metering.
Automatic crossfade of overlapping audio clips with curve options.
Non-destructive slip editing (trimming) of audio and MIDI.
Real-time MIDI FX plug-ins for non-destructive MIDI editing.
Multitrack Piano Roll view for precise editing of MIDI data.
Notation of MIDI tracks with guitar tablature, percussion symbols, chord libraries, and fretboard display.
Event List view with display filtering.
View and edit tempos via graphical map or list.
Frame-accurate SMPTE synchronization with variable frame rates; auto-detection of incoming timecode.
Unlimited real-time locate markers.
Support for custom screen layouts and keyboard shortcuts.
Advanced project file management with networked media support.
Import multiple file formats: AIF, ASF, AU, AVI, BUN, MID, MP2, MP3, MPEG, MPG, SND, WAV, WRK.
Export to WAV to burn CDs; export ACID-format audio for use in other projects and applications; export video and audio to AVI.
Encode audio to MP3, RealAudio G2, and Windows Media ASF. (Includes trial version of Fraunhofer MP3 encoder).
Dual-monitor support.
Multi-processor support.
Extensive 615 page manual and context sensitive online help.
New in SONAR 2.1

SONAR 2.1 lets you collaborate and exchange project files with users of other programs and platforms, and gives you even more control over your studio.

SONAR 2.1 is a free download to registered SONAR 2.0 customers. If you are a registered SONAR 2.0 customer you can access the download here (please have your serial number ready).

Check out all the new enhancements in version 2.1:
OMFI & Broadcast Wave Format (BWF) import/export. Support for OMFI and Broadcast Wave files provides cross-platform compatibility with OMFI host applications such as Pro Tools, Avid and Logic systems.
Mackie Control and Mackie Control XT surface hardware support, allowing you to use the new Mackie surface hardware and multiple extender units to control SONAR's recording, editing and mixing operations.
Windows Media 9 audio export support, providing unmatched audio quality with the latest audio streaming technology available for distributing music over the internet.
MMC support, SONAR can now respond to MMC messages.
Dedicated support for 29.97 SMPTE/MTC timecode.
Trim, offset, and preview mode render option for AVI, MPEG and QuickTime digital video files.
New Cyclone DXi features including snap to grid with assignable resolution, slice preview.
Accept and record universal SYSX messages (MIDI real-time messages).
Improved handling of slip-edited MIDI clips.
Event Properties Inspector toolbar.
New key bindings for frequently accessed commands.
Additional functionality enhancements including past SONAR and third party plug-in updates for Radikal SAC-2.2, CM Labs MotorMix, and ReWire support.